Dulevo 6000 CNG Municipal Sweeper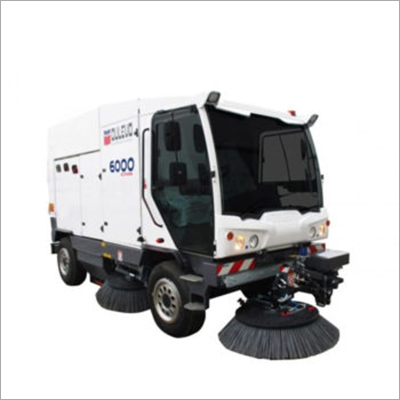 Dulevo 6000 CNG Municipal Sweeper
Product Description
The Dulevo 6000 CNG road sweeper has surpassed even Dulevo's own technological goals, introducing the world's first methane-powered mechanical-suction sweeper.
A new and highly environmentally friendly sweeper, created by Dulevo, caters specifically to city and citizen needs without compromising on sweeping performance.
Pollution from noise and fine particles reduced or eliminated
Dulevo CNG 6000 is a compact, quiet, attractive and easy to drive vehicle, which sets new standards of operator comfort through the use of state-of-the-art noise-reduction technologies.
With a Gore filter as standard, it eliminates over 99.9% of fine particles.
Using 6000 CNG will reduce the level of sound pollution, eliminate all categories of pollution caused by the sweeper engine, as well as minimize fine particulate emissions. Municipalities can use this machine because it emits absolutely no emissions.
Major project features:
1. Emission levels are drastically reduced by natural gas
2. With Gore filters (standard), even the tiniest of particles can be caught and retained
3. By using the most up-to-date technologies, methane is 100% safe to install and use
4. Emissions of very little sound
5. Maintenance costs are low
6. Methane-powered with seven 12 kg tanks
7. Standard installation of a catalytic converter
Manoeuvrability : This road sweeper can be easily maneuvered, even in the most challenging situations, thanks to its four-wheel, synchronized, hydraulic steering.
Dulevo 6000 CNG Municipal Sweeping Machine Specifications:
1. Model: 6000 CNG
2. Cleaning track central brush: 1300 mm
3. Cleaning track side brushes: 2600 mm
4. Cleaning track with side brushes and third brush: 3500 mm
5. Recovery tank capacity: 4.8 mc
6. Hourly performance: 105000 mq/h
7. Power supply: Methane gas
8. Filtration PM10: 99%
FAQ:
Q. What is a CNG Municipal Sweeper Machine?
Ans: A CNG Municipal Sweeper Machine is a specific vehicle utilized for cleaning and keeping up with public regions, like streets, roads, walkways, and parking areas. It is controlled by packed flammable gas (CNG) and furnished with brushes, a vacuum framework, and different parts to clear and gather flotsam and jetsam and litter.
Q. How does a CNG Municipal Sweeper Machine work?
Ans: These machines use pivoting brushes to clear trash from the street surface and walkways. The gathered flotsam and jetsam is then saved into an assortment container. A few models likewise integrate a vacuum framework to get better particles. The CNG motor gives the capacity to both drive and working the broad parts.
Q. What are the benefits of involving CNG as a fuel hotspot for sweepers?
Ans: CNG is viewed as a cleaner-consuming fuel contrasted with diesel, and that implies it produces less discharges, including lower levels of ozone harming substances and particulate matter. Utilizing CNG can assist with diminishing air contamination and add to all the more likely air quality in metropolitan regions.
Q. Are CNG Municipal Sweeper Machines harmless to the ecosystem?
Ans: Indeed, they are more harmless to the ecosystem than their diesel partners because of lower discharges. CNG produces less fossil fuel byproducts and air toxins, settling on it a greener decision for metropolitan cleaning tasks.
Q. How frequently does the assortment container should be exhausted?
Ans: The recurrence of container exhausting relies upon the size of the container and how much trash being gathered. Bigger containers can hold more trash, lessening the requirement for continuous purging. It differs from one machine to another and the particular cleaning conditions.
Q. Do CNG Municipal Sweeper Machines require an extraordinary refueling foundation for CNG?
Ans: Indeed, these machines expect admittance to CNG refueling foundation. Municipalities need to give CNG refueling stations or have a close by wellspring of CNG to guarantee the ceaseless activity of the sweeper armada.
Q. What are some security elements of CNG Municipal Sweeper Machines?
Ans: Wellbeing highlights might incorporate admonition lights, reinforcement alerts, intelligent markings, and encased administrator taxis to safeguard the administrator from residue and flotsam and jetsam. These elements assist with guaranteeing safe activity in metropolitan conditions.
Q. Could CNG Municipal Sweeper Machines at any point be utilized in all weather patterns?
Ans: Indeed, these machines are intended for all year activity and can work in different weather patterns. A few models might have extra elements like warming frameworks to forestall freezing of water utilized for dust control.
Q. Are there various sizes and designs accessible for CNG Municipal Sweeper Machines?
Ans: Indeed, there are different sizes and arrangements to suit different municipal cleaning needs. More modest minimized sweepers are reasonable for restricted roads and walkways, while bigger models are intended for more extensive streets and expressways.
Q. What upkeep is expected for CNG Municipal Sweeper Machines?
Ans: Support incorporates ordinary examinations, cleaning of channels, grease, and guaranteeing the legitimate working, everything being equal. CNG frameworks additionally expect upkeep to guarantee the fuel framework stays looking great.